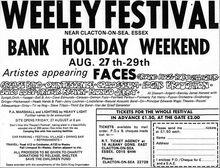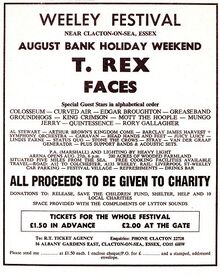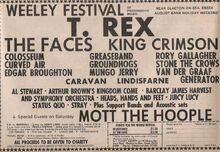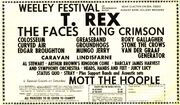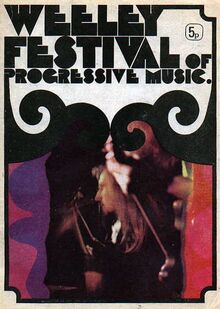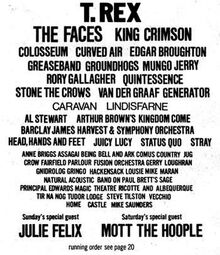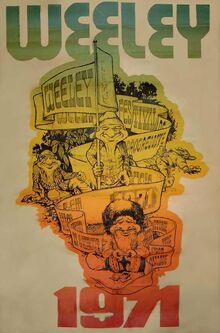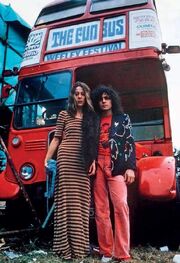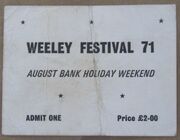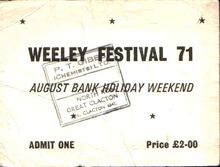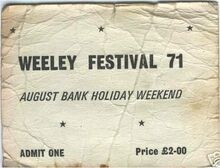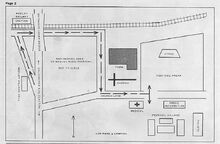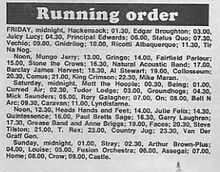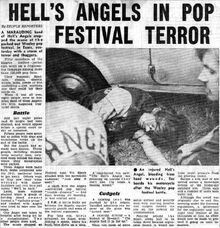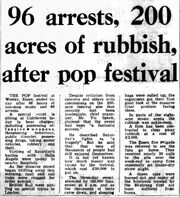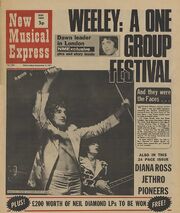 Weeley Festival was organised by Clacton Round Table as a small charity fundraising event for around 5,000 people. When plans for that year's Isle of Wight Festival fell through, focus shifted to Weeley and the festival grew in importance. Advance ticket sales were over 100,000, and estimates of attendance were between 110,000 and 150,000. The festival took place over the August Bank Holiday. The event was promoted as being non-stop music with acoustic acts scheduled to appear between the electric acts, and the music went on day and night.
The opening act were Hackensack, who played an extended set as no other acts had yet arrived. The Pink Fairies were not originally booked to play. They simply turned up and performed for free to the campers; they were so popular, however, that they were asked to play on the stage.
Evergigging band Stray were famous for exploding dustbins on stage, and they managed, according to their website, be over enthusiastic with the pyrotechnics and caused the local coastguard to be alerted. The band had to apologise to the coastguard.
During the festival there were fights between a gang of Hells Angels and stall holders. The Hells Angels were eventually driven away by a combined force of festival staff and stall holders.
Running Order
FRIDAY 27th August 1971:
Midnight , Hackensack 01.30, The Edgar Broughton Band 03.00, Juicy Lucy 04.30, Principal Edwards 06.00, Status Quo 07.30, Vechio 09.00, Gnidrolog 10.00, Ricotti Albequerque 11.30, Tir Na Nog 12.00 , Mungo Jerry 13.00, Gringo 14.00, Fairfield Parlour 15.00, Stone The Crows 16.30, Natural Acoustic Band 17.00, Barclay James Harvest 18.30, Al Stewart 19.00, Colosseum 20.30, Comus 21.00, King Crimson 22.30, Mike Maran

SATURDAY 28th August 1971:
Midnight, Mott The Hoople 00.30, Belrig 01.00, Curved Air 02.30, Tudor Lodge 03.00, Groundhogs 04.30, Mick Saunders 05.00, Rory Gallagher 07.00, On 08.00, Bell & Arc 09.30, Caravan 11.00, Lindisfarne 12.00 Heads, Hands and Feet 14.00, Julie Felix 14.30, Quintessence 16.00, Paul Bretts Sage 16.30, Gerry Laughran 17.30, Grease Band 19.00, Faces/Rod Stewart 20.30, Steve Tilston 21.00, T Rex 23.00, Country Jug 23.30, Van Der Graaf Generator

Sunday 29th August 1971:
01.00, Stray 02.30, Arthur Brown 04.00, Louise 05.00, Fusion Orchestra 06.00, Assegai 07.00, Horne 08.00, Crow 09.00, Castle
Community content is available under
CC-BY-SA
unless otherwise noted.