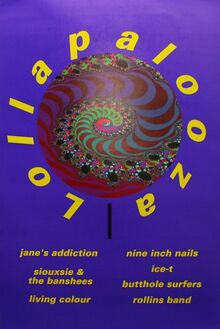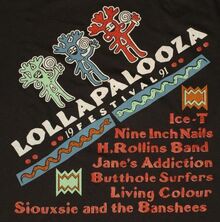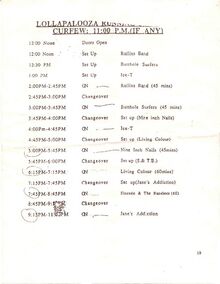 Lollapalooza '91
Lollapalooza '91 was the original Lollapalooza festival tour. This was the only tour without a second stage.
Tour Lineup
Jane's Addiction, Siouxsie and the Banshees, Living Colour, Nine Inch Nails, Fishbone, Violent Femmes, Ice-T's Body Count, Butthole Surfers, Rollins Band
Notable Show Happenings: Janes Addiction was the most popular band and last in the line up by the time they got on they where too drunk to perform. Everyone attending was highly disappointed and left in droves because they ruined what was a perfect day.

During the kick-off date at Compton Terrace, Nine Inch Nails' set was cut to a minute and a half due to an equipment malfunction involving a cable melting, effectively halting the band's set.  Perry Farrell and Dave Navarro got into a fist fight at the end of the concert that night. Nine Inch nails owned their moment mid day it was super hot and lifted the crowd to carry through the night. Tour Dates
July 18, 1991 Compton Terrace, Tempe, AZ
July 20, 1991 Devore Stadium, Southwestern College, Chula Vista, CA
July 21, 1991 Irvine Meadows Amphitheater, Irvine, CA
July 23, 1991 Irvine Meadows Amphitheater, Irvine, CA
July 24, 1991 Irvine Meadows Amphitheater, Irvine, CA
July 26, 1991 Shoreline Amphitheatre, Mountain View, CA
July 27, 1991 Shoreline Amphitheatre, Mountain View, CA
July 30, 1991 Sandstone Amphitheater, Bonner Springs, KS
August 1, 1991 Harriet Island, St. Paul, MN
August 3, 1991 World Music Theater, Tinley Park, IL
August 4, 1991 Pine Knob Amphitheatre, Clarkston, MI
August 5, 1991 Blossom Music Center, Cuyahoga Falls, OH
August 7, 1991 Canadian National Exhibition, Exhibition Place, Toronto, ON
August 9, 1991 Great Woods, Mansfield, MA
August 10, 1991 – Great Woods, Mansfield, MA
August 11, 1991 Waterloo Village, Stanhope NJ
August 13, 1991 Saratoga Performing Arts Center, Saratoga Springs, NY
August 14, 1991 Waterloo Village, Stanhope NJ
August 16, 1991 Lake Fairfax, Reston, VA
August 17, 1991 Walnut Creek Amphitheater, Raleigh, NC
August 18, 1991 Lakewood Amphitheater, Atlanta, GA
August 20, 1991 Central Florida Fairgrounds, Orlando, FL
August 22, 1991 Starplex Amphitheater, Dallas, TX
August 23, 1991 Starplex Amphitheater, Dallas, TX
August 25, 1991 Fiddlers Green Amphitheatre, Greenwood Village, CO
August 28, 1991 King County Fairgrounds, Enumclaw, WA