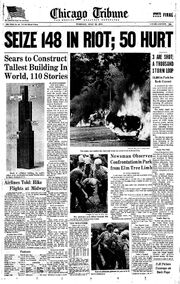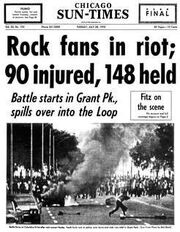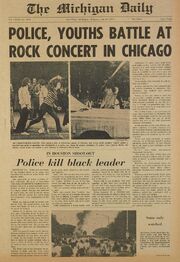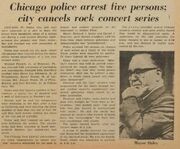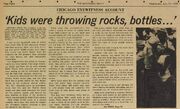 A riot occurred when a crowd of 35,000 to 50,000 waiting for a concert by Sly and the Family Stone reacted violently as the concert is was delayed and ultimately cancelled.
Mayor Richard J. Daley ordered that all rock concerts planned by the Chicago Park District Board were cancelled. He called the fighting "A riot, a brawl, and mob action." [Chicago Tribune, July 29, 1970] He continued, "There were a lot of liquor and wine bottles thrown at the policemen. I believe the young people who attend these concerts should assume some responsibility for policing themselves."
At least 162 persons were injured in the turmoil and hundreds of windows were broken all along Michigan Avenue opposite Grant Park as well as on some side streets between Michigan and State Streets. Damage to police vehicles was estimated at $10,000 with one car destroyed by fire. Three men and two women were arrested near the Grant Park band shell after a report that the performance venue would be set on fire. Police searched a truck belonging to Mike Patrick of Brommel, Pennsylvania and found a five-gallon can of gasoline and one-fourth pound of marijuana.
Community content is available under
CC-BY-SA
unless otherwise noted.