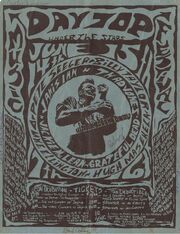 The Daytop Music Festival ("Under The Stars") in Staten Island, NY to benefit ex-junkies in their rehab process. This event took place June 14-17, 1968, and featured Pete Seeger, Duke Ellington, Janis Ian, Blood, Sweat & Tears, Hugh Masakela, and the Grateful Dead (who had to cancel their appearance on the 16th after playing June 14 & 15 at the Fillmore East. The reason for the Dead's exit is unknown, but the Jeff Beck Group agreed to be a last minute addition. However, Rod Stewart's voice was shot so instead Jimi Hendrix (guitar) filled in for initially both Beck and Stewart, backed by Ron Wood (bass) and Mickey Waller (drums), before Beck eventually joined in)
Jeff Beck: "Hendrix is the best jam I've ever had. Somebody organised the most monster jam of all, not from a status point of view. It really worked out perfectly. It was a concert for reformed drug addicts, but that was the least of it. They were fantastic people, they just sat for two hours and Jimi played 'Foxy Lady.' He was playing bass and he played a couple of my things. It just went on and on, we were jumping all over the place. Hendrix came to see me at that scene... - people used to come for the great battle" [Time Out, 16-22 February 1973].

PETE SEEGER/JANIS IAN/DUKE ELLINGTON/BILLY TAYLOR/THAD JONES/ MEL LEWIS/SHEILA JORDAN/KENNY BURRELL/DAVE EISENSIN/JOE NEW. MAN/THE NEW ART JAZZ ENSEMBLE/RICCARDO RAY/RAY BARRETTQ/STEVE PAUL/FORUM QUORUM/CHARLOTTE RUSSE/HUGH MASEKELA/CLARK TER- RV/DAVID AMRAM/GEORGE BARROW/SHEILA JORDAN/ART FARMER/JIMMY HEATH/JACKIE McCLEAN/DONALD BYRD/VIVECA LINDFQRS/AMANDA AMBR0SE
FRIDAY June 14, 8:30 P.M. a night of FOLK MUSIC at DAYTOP (Staten Island) with PETE SEEGER, JANIS IAN. A 100 foot schooner, "Ths Black Pearl" will dock near shore and the Black Pearl River Singers will join Pete in singing sea chanteys
SATURDAY, June 15, 3:00 P.M. till V JAZZ at DAYTOP. BILLY TAYLOR. THAD JONES, MEL LEWIS, SHEILA JORDAN, KENNY BURRELL, DAVE EISENSIN, JOE NEWMAN, THE NEW ART JAZZ ENSEMBLE. More to come
SUNDAY June 16. 3:00 P.M. afternoon LATIN and ROCK evening at DAYTOP. RICCARDO RAY LEBRON BROS., RAY BARRETTO plus STEVE PAUL from the 'SCENE' to M.C. an evening of Rock. "FORUM QUORUM", "CHARLOTTE RUSSE" Starring: Grateful Dead, Blood, Sweat & Tears and Kenn/ Rankin
MONDAY, June 17, 8:00 P.M. JAZZ at the VILLAGE GATE (Greenwich Village). DUKE ELLINGTON, HUGH MASEKELA, CLARK TERRY, DAVID AMRAM, GEORGE BARROW, SHEILA JORDAN, ART FARMER, JIMMY HEATH, JACKIE McCLEAN, DONALD BYRD, KENNY BURRELL, VIVECA LINDFORS, AMANDA AMBROSE and some "big" stars who are expected to drop in.